Posts tagged
healthy dining
0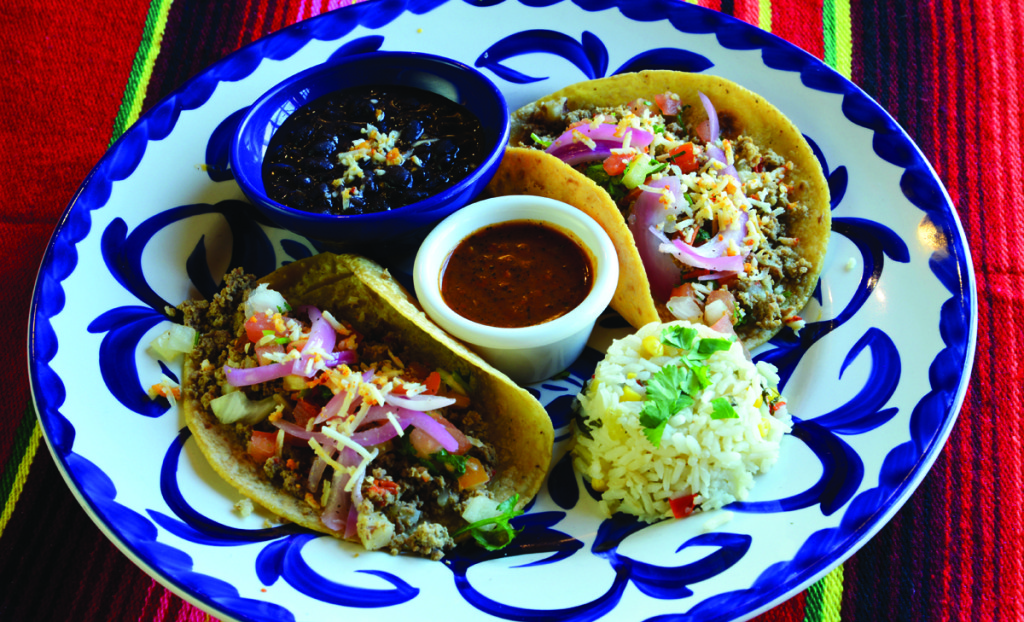 Healthy dining…Mexican style? Only at Diane Powers' Bazaar del Mundo Restaurant Group, where six flavorful and regionally-inspired Mexican entrees are new – and all under 650 calories! Gluten-free choices are also included.
The chefs at Powers' award-winning Mexican restaurants (including our sister-restaurants Casa Guadalajara in Old Town, Casa de Pico in La Mesa and Casa Sol y Mar in Del Mar Highlands) have created lighter selections using the finest and freshest ingredients, with homemade salsas and sauces newly prepared every day:
Camarones del Pacifico: The ultimate shrimp ceviche marinated and poached in Pacifico beer, lime juice, red onions, Tajin and cucumbers – 290 calories
*Ensalada de Chef Ignacio: Grilled chicken, avocado slices, tomatoes, queso Oaxaca and thin red onion, served with spicy chipotle light ranch dressing – 510 calories; gluten free
*Turkey Picadillo Enchiladas: Turkey Picadillo Enchiladas topped with salsa verde and queso cotija, served with black beans and jicama slaw – 560 calories; gluten free
Turkey Picadillo Soft Tacos: Two soft, ground turkey tacos with pico de gallo, pickled red onions, queso cotija, served with black beans, arroz poblana and salsa quemada – 490 calories
Tacos de Pescado Tropicales: Grilled fish with pineapple and mango salsa in soft corn tortillas, served with jicama slaw, light sour cream jalapeño lemon sauce, and black beans – 650 calories
*Ensalada de Carne Asada: Grilled and marinated carne asada, with sliced avocado, tomatoes, queso cotija, sliced radishes, spring mix of romaine and cilantro lime dressing – 390 calories; gluten free
* = gluten-free selections
Diners can enjoy the new healthy dining entrees while washing them down with a frosty Skinny Margarita, made with Tres Agaves nectar and under 100 calories. ¡Salud!
0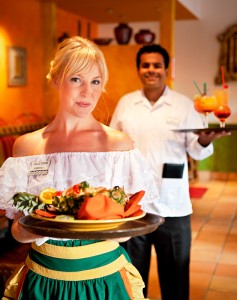 Happy New Year from our family at Casa de Bandini! If you're among the millions of Americans fighting to be fitter in 2014, you'll be happy to know you don't have to quit eating out. Our talented chef has prepared a number of authentic Mexican entrees bursting with flavor, that won't ruin your resolutions!
Our Chicken and Black Bean Tostada features a crisp corn tortilla topped with shredded chicken, black beans, shredded lettuce, tomato, olives and spiced with salsa ranchera on the side – and only has 441 calories. Our Mexican Stir Fry will satisfy your taste buds with zucchini, bell peppers, onions and more fresh vegetables sautéed with shredded chicken in achiote sauce and served over a bed of Mexican rice, at 505 calories.
To top it off, sip one of our refreshing and frosty skinny margaritas, with under 100 calories! Who says eating healthy can't be a "fiesta"?
To view more of our healthy selections, see our full menu here.