Archive for
April, 2019
0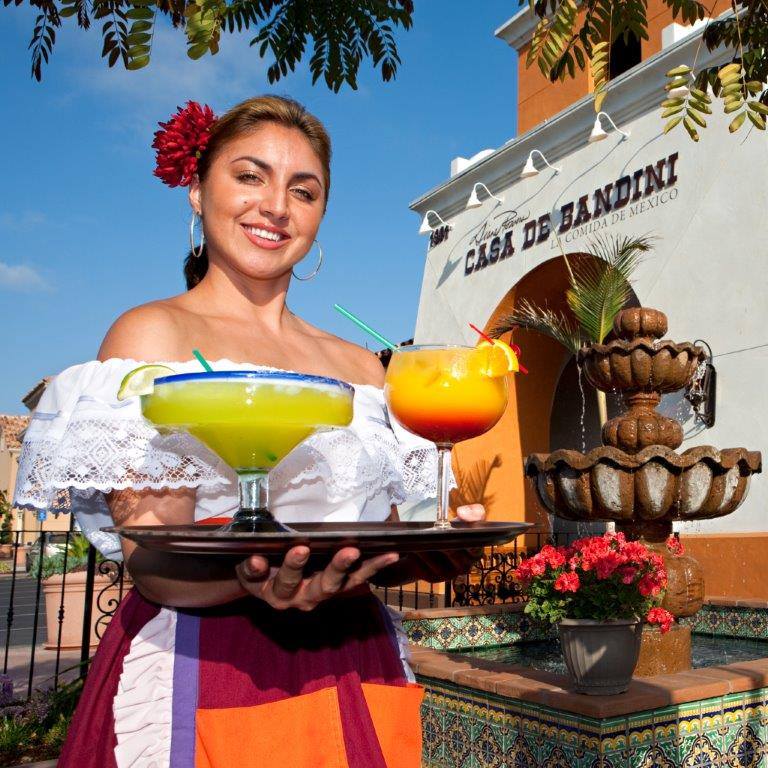 Enjoy live mariachi music, folkloric dancers, authentic Mexican cuisine and refreshing margaritas during the Cinco de Mayo celebrations at Diane Powers Bazaar del Mundo Restaurants: Casa Guadalajara, Casa de Pico, Casa de Bandini and Casa Sol y Mar.
Throughout Cinco de Mayo weekend, Diane Powers' award-winning restaurants will celebrate with inspired "Cinco" fare, such as "Cincoritas," delicious strawberry, kiwi and lemon-lime margaritas decked out in the colors of the Mexican flag; and "Enchiladas Banderas," a savory sampling of chicken, cheese and beef enchiladas served with three different sauces – rojas, verde and blanca (red, green and white).
Additional offerings and entertainment vary by location:
Casa Guadalajara, Old Town:
4105 Taylor Street, San Diego, 619-295-5111, www.casaguadalajara.com
May 4–5: Enjoy drink specials in the lively Cantina, including cans of Tecate and Dos Equis for $5.50. At the entrance of Casa Guadalajara, guests will be welcomed into a marketplace filled with art, clothing, accessories and other merchandise from around the world, plus delicious Mexican cuisine for purchase and activities for kids. Mariachis and ballet folklorico dancers will perform throughout the restaurant.
Casa de Pico, Grossmont Center, La Mesa:

5500 Grossmont Center Drive, La Mesa, 619-463-3267, www.casadepico.com

May 4–5: Head into the cantina to celebrate with $5 tacos, $7 shots and $8.95 margaritas! Additional drink specials will be offered both days, including giveaways from Tecate and Dos Equis, and hourly tequila specials featuring Cabo Wabo, Patron and Tres Generaciones. Mariachis, troubadours and ballet folklorico dancers will provide live entertainment throughout the restaurant.
Casa de Bandini, The Forum, Carlsbad:
1901 Calle Barcelona, Carlsbad, 760-634-3443, www.casadebandini.com
May 4­­­–5: Spice up your fiesta with the Carnitas Taco Sampler and wash them down with Casa de Bandini's Don Julio margaritas. Sip on specialty cocktails with drink specials by the hour, offered Saturday and Sunday. The fiesta wouldn't be complete without live Mariachi music and Folkloric dancers.
Casa Sol y Mar, Del Mar Highlands Town Center, Del Mar:
12865 El Camino Real, 858-792-4100, www.casasolymar.com
May 4–5: Enjoy festive food and drink specials in the Cantina such as the Tour of Mexico Bucket of Beer, five different beers for $20 and the Taco Sampler, three kinds of tacos for $7. Music and folkloric performances will take place throughout the weekend.
Cinco de Mayo holiday celebrates the Battle of Puebla, in which vastly outnumbered Mexican forces defeated the Imperialist French Army on May 5, 1862. Today, in the U.S., Cinco de Mayo is widely depicted as a celebration of Mexican culture and heritage.