Archive for
January, 2014
0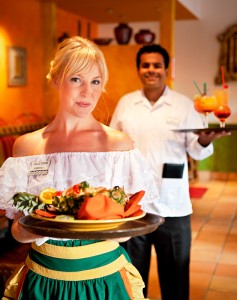 Happy New Year from our family at Casa de Bandini! If you're among the millions of Americans fighting to be fitter in 2014, you'll be happy to know you don't have to quit eating out. Our talented chef has prepared a number of authentic Mexican entrees bursting with flavor, that won't ruin your resolutions!
Our Chicken and Black Bean Tostada features a crisp corn tortilla topped with shredded chicken, black beans, shredded lettuce, tomato, olives and spiced with salsa ranchera on the side – and only has 441 calories. Our Mexican Stir Fry will satisfy your taste buds with zucchini, bell peppers, onions and more fresh vegetables sautéed with shredded chicken in achiote sauce and served over a bed of Mexican rice, at 505 calories.
To top it off, sip one of our refreshing and frosty skinny margaritas, with under 100 calories! Who says eating healthy can't be a "fiesta"?
To view more of our healthy selections, see our full menu here.