Archive for
October, 2015
0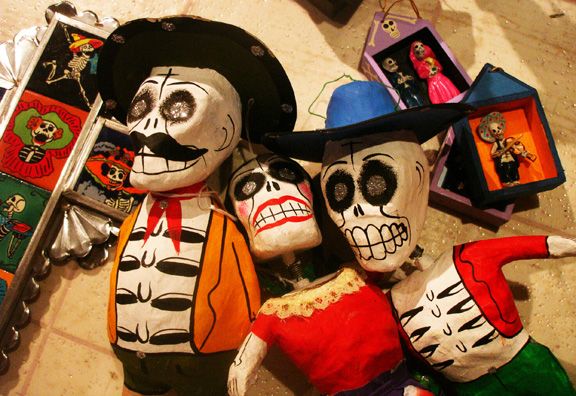 Día de los Muertos, also known as Day of the Dead, is a Mexican celebration to remember past family and loved ones. Despite its title, the celebration is a vibrant and colorful tribute to the lives of those who have passed.
Celebrated annually on November 1 and 2, Casa de Bandini will continue the tradition of paying homage to the deceased with an elaborately decorated alter, and offer traditional Day of the Dead dishes such as Chicken Mole Enchiladas.
The festivities will also continue down at Bazaar del Mundo in Old Town. As part of the annual "Tour of Altars," produced by the Old Town Chamber of Commerce, the Bazaar del Mundo shops will be transformed into a walkable trail of altars, complete with traditional sugar skulls, handmade papier-mâché decorations and guest artists selling Day of the Dead-themed jewelry, handbags, accessories, prints and cards to promote the holiday. Exotic sounds will be provided by Latin American folk group Tinku.
Children and families can enjoy a sugar-skull decorating class on Saturday from noon to 6 p.m. and face painting both days. Hot chocolate, mini churros and coloring sheets will be available for the children, while historical handouts will be provided to adults.
The event will take place Saturday, Oct. 31, from 10 a.m. to 8 p.m., and Sunday, Nov. 1, from 10 a.m. to 5 p.m. On Monday, Nov. 2, the Bazaar del Mundo Shops will highlight its alters and offer treats and children's crafts through closing at 5:30 p.m.
The event is in conjunction with Old Town's Día de Los Muertos three-day event, from 2 to 9 p.m. Oct. 31 to Nov. 2, which includes "Tour of Altars," a candlelight procession, face painting and mask decorating throughout Old Town at participating sites.
Parking tips: park for free across the street at Caltrans all day Saturday and Sunday, or take the trolley.