Posts tagged
Ranch & Coast Magazine
0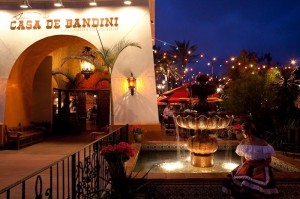 Savor The Splendor Of Mexico
Diane Powers' Casa de Bandini restaurant at The
Forum in Carlsbad greets guests with the flavors of
Old Mexico.Offering authentic regionally-inspired
Mexican fare, Casa de Bandini is an aesthetic
delight—decorated down to the tiniest detail with
precise intention and hand-crafted furnishings that
evoke a genuine impression of the color,warmth, and
splendor of Mexico.
Guests can dine under colorful umbrellas on the
beautiful outdoor patio, reminiscent of the vibrant
haciendas throughout the Mexican countryside, or
enjoy the dining room, decorated with fine Mexican
folk art and hand-painted murals.
Using the freshest ingredients and a multitude of
sauces to make unforgettable authentic cuisine,
Casa de Bandini's menu showcases favorites from
its original location in Old Town State Historic Park,
as well as innovative new entrees.To round out the
experience, Casa de Bandini's strolling mariachi band
serenades diners with festive Mexican folk music.
You'll feel like you just traveled across the border.
760/634-3443,
Courtesy of Ranch & Coast Magazine