Posts tagged
restaurants in Carlsbad
0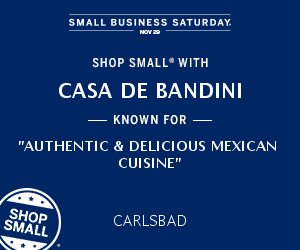 On the busiest shopping weekend of the year, American Express is reminding us to shop and dine locally with its Small Business Saturday campaign.
While you're out shopping the sales at The Forum, take a break and join us at Casa de Bandini to sip a frosty margarita and try one of our new healthy dining creations, like Ensalada Chef Ignacio – grilled chicken, avocado slices, tomatoes, queso Oaxaca and thin red onion, served with spicy chipotle light ranch dressing (510 calories). When you eat at Casa de Bandini, know that you are supporting a local business in your community.
Small Business Saturday is a national campaign that rewards American Express users when they shop and dine at local businesses, making a contribution back to their communities. AmEx users who have pre-registered their card, will receive a credit back on their statement up to $30. For more info about the campaign, visit: www.smallbusinesssaturday.com.