"The History of Casa de Bandini"
by Diane Powers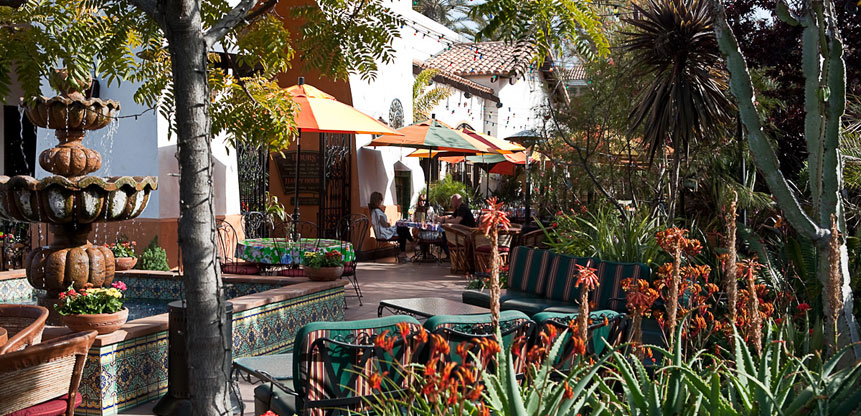 I originally opened Casa de Bandini in 1980 in the Old Town State Historic
Park in San Diego.  At that time I held the largest concession contract in
the State of California from the California State Parks Department, which was my
Bazaar del Mundo contract.  I began this contract in 1971 with the
development of the Bazaar del Mundo, which evolved into a retail complex
stores and restaurants.
At that time I had recently graduated from college with a design degree and had bought an
interior design business in San Diego.  I had been frequently traveling to
Mexico and stayed in homes in various areas of Mexico, becoming closely
acquainted with Mexican life and culture, and savoring every bit of it.
The creativity and spirit of Mexico captured my attention and love and truly
inspired me to do something to bring this creativity to San Diego.
I presented these ideas to the State Parks Department and thus began the redevelopment of several buildings.  Casa de Bandini was one of my development projects that was
finished in 1980 and was situated in a very run down historic building that
had a very colorful history.  Casa de Bandini was built in 1829 by Juan Bandini,
an Italian immigrant from Peru, who migrated to this historic community in
California later know as "Old Town".
The home he built was first a one-story adobe home where he raised
his family, entertained and held community political meetings. He liked to
gamble and unfortunately, to settle a large gambling debt, he lost his home
to the owner of a new stagecoach line.  This new owner added a second story
to the building to create a hotel for his stagecoach passengers.  Later the
stagecoaches were replaced with motorized vehicles and the hotel became an
active destination in the red light district of the community. It later
became a rooming house and then eventually back to a hotel by the name of
the Cosmopolitan Hotel and then the Miramar Hotel.  After that it was
vacated for several years until I revitalized it in 1980 to the Casa de
Bandini restaurant.
Casa de Bandini was a beautiful restaurant with a lush patio and a large central
fountain which was situated right over the original cistern that was built
by some of the early dwellers.  (This very same fountain is now located at
the entry of new Casa de Bandini here at the Forum in Carlsbad). After 25
years of operation as one of San Diego's leading restaurants, winning many
awards as "San Diego Best Mexican Restaurant", we lost our lease and the
state transformed the beautiful Casa de Bandini back to the
American period's Cosmopolitan Hotel.
While Casa de Bandini thrived as our showcase Mexican restaurant in Old Town it was decorated in much the same way as you see it today at its current location in The Crossings in Carlsbad, California.  Reminiscent of an early period of elegant living and dining, we still display the beautiful art collection from Peru, the magnificent gilt gold mirrors and the ceremonial costume pieces that are
framed on the wall, and many of the Saints that you would have seen in an
original Mexican hacienda from the late 1800s to early 1900s.  Even the
large hand wrought iron chandeliers, and the antique leaded glass window
panels in our current dining room were brought from our first Casa de
Bandini. All other lighting was hand made by Mexican craftsmen.
In this newer version of this memorable restaurant we have used other very
authentic materials and designs such as the handmade wood and leather chairs
from Mexico in or south dining room and even our bar stools.  Much of the
fabric used on the chairs is hand woven wool from Oaxaca Mexico and woven by
Zapotec Indian artists especially for this restaurant. Many of the yarns
they used to weave the fabric are from hand-spun wool in natural vegetable
dyes and the designs are those typically created by the Zapotec Indians.
In our bar the cascade of handmade lanterns and stars made of tin, brass and
glass are a typical design also crafted in Mexico. The color scheme and the
hand painted designs on the walls were inspired by the original designs
painted on some of the chapel walls in the California Missions. The floor
tile is from Mexico and known as Saltillo Pavers.  The tile around the
Tortilla area and the patio fireplace and the main fountain are hand painted
Talavera tiles from Puebla, Mexico and were inspired by the original
Talavera designs from Spain.
We landscaped the intimate patio with several specimen plants and in the
narrow planters along the edge of the patio incorporated large Mexican pots
with dramatic flax and some exotic tropical specimens.  You will see a
lovely variety of succulents, and cactus as well as palms, bird of paradise,
bougainvillea, flowering vines, Kangaroo paws, and always an abundance of
color, all very reminiscent of a traditional Mexican garden.  Of course,
the highlight of this patio is at the entry with the magnificent Mexican
cantera stone fountain centered in the Talavera tiled pool. This is the one
I bought for the original Casa de Bandini and I purchased it in the late
1970s on a trip to Guadalajara.
The recipes and menu selections from our very ambitious menu are mostly from
our original restaurant from recipes I have collected, as well as others
created by our chefs over the years.  We continue to create new additions
to our menus and always feature new seasonal menu selections keeping our
items very authentic and using only fresh vegetables and an assortment of
spices and other ingredients making everything fresh daily.  Over 14
different fresh salsas and sauces are made fresh daily plus a delicious
selection of our homemade salad dressings.  You can watch our corn and flour
tortillas being made every day. We take great care in creating delicious
flavors with our food.
Adding to the complete cultural experience at Casa De Bandini are the
musicians that perform nightly and on  Sunday. You can hear the beautiful
Mexican ballads sung by our fabulous Mariachis, or other Hispanic favorites
sung by Tinku.
I hope you have enjoyed our history and continue to enjoy dining at Casa de Bandini as much as we enjoy serving you.
Sincerely,
Diane Powers





This site uses Akismet to reduce spam. Learn how your comment data is processed.